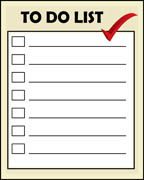 We're doing our last round of packing and prep before leaving and I thought it might be helpful to share how we keep the boys and the Hubs organized while also teaching the little guys how to organize and utilize lists.
Our little ADHDers are 6 and 8 and while that may seem young to expect them to be able to pack for themselves, we believe the skills required to organize, plan, etc. are ones that should be taught and nurtured from early on across the board.
The Struggle
If you or someone you love has ADHD, you know how difficult it can be to get and stay organized. I remember when I sent my ADHD Hubs to the grocery store for the first time alone when I was pregnant and on bedrest. He literally spent about 2 hours wandering around the store (one he had been to many times before) looking for what I'd asked him to grab and second-guessing which brand/size every time he picked anything up. Keep in mind, the list was only a few items long. It was after this trip that I quickly realized I had to organize things differently for my ADHD Hubs.
Instead of just handing him a list with everything I needed, I began organizing the list in the same order as the aisles he'd go down for each particular store. For example, if I needed eggs, cheese, paper towels and bottled water and I knew the water was nearest to the entrance he'd go through, the eggs and cheese came next, then the paper towels were in the last aisle,  I'd format the list in that order:
water
eggs
cheese
paper towels
I also started making small notes next to products I knew he might struggle over when it came to choose which one was the right one to buy. For example, if I knew they sold 2 types of cheddar cheese that were super similar, but one was made in England and one was not, I'd say: cheddar cheese (made in England).
These may seem like small, common-sense tips, but really they made a world of difference to my ADHD Hubs.
The Earlier the Better
Realizing how difficult small organizational things like grocery lists were for the Hubs (and of course a billion other major things), I knew I had to teach our little guys these skills early on so that they could follow a list, organize their time (as best as possible) and get themselves generally together.
We utilize printed out schedules for schoolwork, lists for chores and even lists for packing!
In fact, the kids essentially pack their own suitcases and carry-ons with some guidance and a parental double-check (a bit more help for our younger guy than older guy).
There's nothing fancy about them. Here's an example of one of ours.
As you can see, we leave an area on each row where the boys can check off the item once it's been packed. We also leave enough room that they can put hash-marks next to items where they need to put in multiples so they can keep track of how many they put in as they pack (shirts for example). I always leave a couple blank rows for stuff we forget to put on the list or that they want to include.
Teach a Man to Fish … or "List" in This Case!
I'm telling you, teaching your ADHDers how to make and follow lists will be an amazing asset to them now and in the future!
I'm  going to transition our boys to electronic lists in addition to written/printed. I'm scouting apps and will share once I find one we like after testing some out.
What has been one of your biggest challenges with getting your ADHDers to create/follow lists? What tricks have worked to get them on the right track?